Street Food is a growing business opportunity
Last Friday (10th February 2017), Nottingham celebrated it's tenth year of Light Night. Described as Nottingham's free cultural event of the year set in the city after dark.
This annual event is organised by Nottingham City Council along with community groups and a number of city venues.
There's lots of family activities and entertainment right across the city centre, incorporating the market square, Nottingham Castle, Brewhouse Yard and surrounding areas, all illuminated with thousands of attractive coloured lights.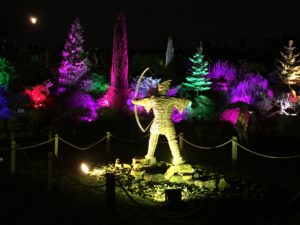 And taking pride of place in the market square was the Wheel of Light, an iconic structure with it's special light show of complex patterns, created with 75,000 bulbs.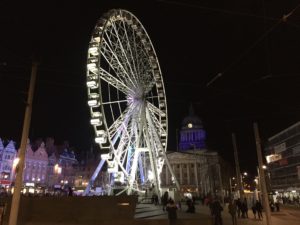 I attended last year, finding it great fun I knew I would return again this year. People from all over Nottinghamshire, gently walking the streets, taking in all the sights, activities and atmosphere of the night.
Of particular interest to me was the Light Night Market, with it's amazing choice of street food, drink, crafts and free live music.
One of the things that really stood out for me was how passionate the street food vendors were when talking about their particular style of cooking, the ingredients they used in the cooking and how keen they were to making sure their customers had the best time. Here were these small business owners, so proud of what they had to offer the people that were stopping by as they enjoyed their evening at the Light Night event.
The other thing that really stood out to me was how curious, tempted and interested people were for giving the street food a try. And they were not shy of paying the prices which averaged between £4 to £7 per serving.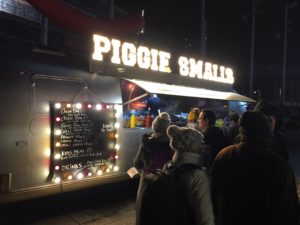 There was lots of choice with different kinds of street food on offer, cooked and served fresh from the stalls. Cantonese, Indian, Thai, Caribbean, French, Middle Eastern and more. Not forgetting vegans, vegetarians and gluten free customers, there was something for everyone.
And it's not just Nottingham, with it's Light Night market where you'll find an array of deliciously tasty street foods on offer. You will find an increasing number of street food vendors at markets and towns throughout the UK.
In fact, from the students that have attended our How To Start A Market Stall training over the past two years, on average 30% (3 out of every 10) have an idea or interest in starting up a food related market stall business.
Street Food – The Profitable Disruptor
Street food (when done well) is not just a profitable business for vendors. CGA Peach research reported that street food was one of the biggest disruptors to the catering and hospitality industry in 2016 which is testimony to the growth of street food in the UK and highlights a potential business opportunity for anyone interested in starting a street food business themselves. CGA Peach report here http://www.cgapeach.co.uk/peach-report/2016/3/1/march-of-the-disruptors
Want to start your own street food business?
Go here to see our step by step course>> http://howtostartamarketstall.com